Much thanks to James for having me on the JQM Literary Spotlight today! We're chattin' about an outrageously determined, trailblazing, heartfelt, warrior woman and how I became an accidental poet. Join us …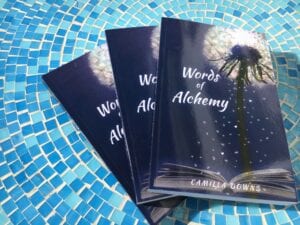 FIRST, LET'S GET TO KNOW YOU A BIT. TELL US SOMETHING UNIQUE ABOUT YOURSELF:
I cheated for this one as I felt too close to myself to really nail down my uniqueness. So …. I asked my Facebook connections, what they think is unique about me. Here's what they had to say: It is unique that my two kids are published authors, along with my two published books. Thomas's book was published when he was 10 years old and Lillian's when she was 16 years old. They are 14 years old and 18 years old now. Here's the rest of what they had to say … I'm a heartfelt warrior woman, who is an Earth Mother, resourceful, creative, a problem-solver, and who is outrageously determined; trailblazing with patience, creativity, strength, perseverance, and altruism.
WHAT IS THE GENRE AND AUDIENCE FOR THIS BOOK:
Nonfiction/Free-verse Poetry/Memoir …. Any age who enjoys free-verse poetry
WHAT WAS THE INSPIRED YOU TO WRITE THIS BOOK:
I began an incredibly deep and profound healing journey after my divorce in 2007. A major part of the healing was going for walks, lots and lots of walks, allowing nature to help me in healing. When in nature, poetic words would simply bubble to the surface of my thoughts. That was the original inspiration. Following this, I began to receive intuitive nudges to take photographs while on these walks. So began the practice of taking nature photographs and posting on social media. One day I sat to look through the photos, choosing one to share, and as I began to type the accompanying message, a poem landed on the page! It was incredibly magical. I didn't even set out to write poetry, an accidental poet, perhaps?
Go here to read the full spotlight …
https://jqmserv.wordpress.com/2020/07/13/jqm-literary-spotlight-presents-words-of-alchemy-by-camilla-downs/
Blessings,
Camilla
See It. Share It. BE IT … Spread Love Everywhere You Go!
"Words of Alchemy", published December 2019, is a free-verse poetry memoir covering the last 6 years of my life. The poetry of nature, the poetry of healing, the poetry of appreciation, the poetry of love, in one beautiful book.
Amazing news! My 19 year old daughter, Lillian Darnell's debut book, "Where Would You Fly and Other Magical Stories" was published January 2018. Learn more and order here. 
Wonderfully exciting news! My 14 year old son, Thomas Darnell's book, Biggest Little Photographer is published. Be inspired! Learn more and order here.