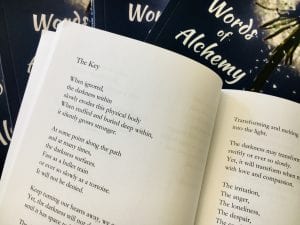 The Key
When ignored,
the darkness within
slowly erodes this physical body
When stuffed and buried deep within,
it silently grows stronger.
At some point along the path
and at many times,
the darkness surfaces.
Fast as a bullet train
or ever so slowly as a tortoise.
It will not be denied.
Keep turning our hearts away, we can.
Yet, the darkness will not depart
until it has space to be recognized.
The darkness, the shadows,
only wish and pine for this space.
To be seen and accepted and felt
with compassion and deep love.
As the darkness is wrapped
in a loving embrace,
the transformation begins.
Acceptance, compassion and love,
serve to alchemize the darkness and shadows.
Transforming and melting the darkness
into the light.
The darkness may transform ever so
swiftly or ever so slowly.
Yet, it will transform when met
with love and compassion.
The irritation,
The anger,
The loneliness,
The despair,
The confusion.
Surface as they rub
the darkness within.
These feelings and emotions are the
key that allow an
opportunity to free oneself
from the suffering of denying
the darkness.
Freedom to live
consciously and authentically
is the gift this key bears.
Oh, glory be,
the Key of Alchemy. – ©Camilla Downs
Blessings,
Camilla
See It. Share It. BE IT … Spread Love Everywhere You Go!
"Words of Alchemy", published December 2019, is a free-verse poetry memoir covering the last 6 years of my life. The poetry of nature, the poetry of healing, the poetry of appreciation, the poetry of love, in one beautiful book.
Amazing news! My 19 year old daughter, Lillian Darnell's debut book, "Where Would You Fly and Other Magical Stories" was published January 2018. Learn more and order here. 
Wonderfully exciting news! My 14 year old son, Thomas Darnell's book, Biggest Little Photographer is published. Be inspired! Learn more and order here.