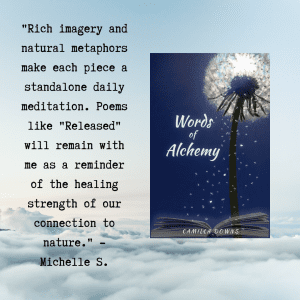 "A beautiful testament to the love and dedication of a mother to her children, and her personal transformation using nature as a guide and companion. I was instantly transported to zenlike mindfulness by the melodic prose in this beautiful collection. Poems like "Released" will remain with me as a reminder of the healing strength of our connection to nature. The rich imagery and natural metaphors make each piece a standalone daily meditation." – Michelle S.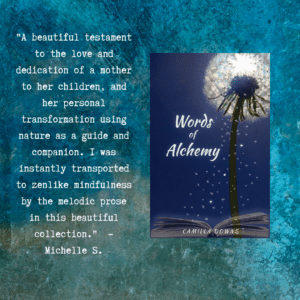 Blessings,
Camilla
See It. Share It. BE IT … Spread Love Everywhere You Go!
"Words of Alchemy", published December 2019, is a free-verse poetry memoir covering the last 6 years of my life. The poetry of nature, the poetry of healing, the poetry of appreciation, the poetry of love, in one beautiful book.
Amazing news! My 18 year old daughter, Lillian Darnell's debut book, "Where Would You Fly and Other Magical Stories" was published January 2018. Learn more and order here. 
Wonderfully exciting news! My 14 year old son, Thomas Darnell's book, Biggest Little Photographer is published. Be inspired! Learn more and order here.