October 10 2020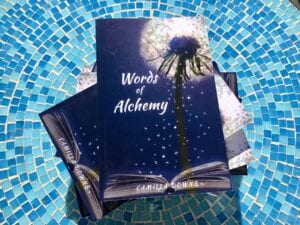 I was recently on a facebook live with 4 other authors. We had a great time answering everyone's questions. We chat about writing styles, where ideas come from, and much more!
Join Helen Pryke, Fay Henson, Elizabeth Hill, Camilla Downs, and Valerie Keogh for a chat, laughs, and more.
Where to Buy Words of Alchemy:
Words of Alchemy: If you're in the U.S. and would like a personalized, signed book – free shipping! (I will ship internationally, if the reader would like to pay the international shipping fee): http://camilladowns.com/books/words-of-alchemy/
Amazon – Words of Alchemy: mybook.to/WordsofAlchemy
Amazon Author Central: amazon.com/author/camilladowns
All of our books: http://camilladowns.com/books/
Blessings,
Camilla
See It. Share It. BE IT … Spread Love Everywhere You Go!
"Words of Alchemy", published December 2019, is a free-verse poetry memoir covering the last 6 years of my life. The poetry of nature, the poetry of healing, the poetry of appreciation, the poetry of love, in one beautiful book.
Amazing news! My 19 year old daughter, Lillian Darnell's debut book, "Where Would You Fly and Other Magical Stories" was published January 2018. Learn more and order here. 
Wonderfully exciting news! My 15 year old son, Thomas Darnell's book, Biggest Little Photographer is published. Be inspired! Learn more and order here.