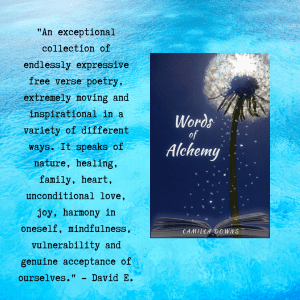 "This is an exceptional collection of endlessly expressive free verse poetry, extremely moving and inspirational in a variety of different ways. It speaks of nature, healing, family, heart, unconditional love, joy, harmony in oneself, mindfulness, vulnerability and genuine acceptance of ourselves.
Camilla has approached her life experiences with a gentle courage that unfolds into a celebration of the important things that mean the most to us. Despite all of our negative times and troubles we have to endure, life has so many positive experiences to offer. Camilla navigates her own trials and tribulations when it comes to pain, heartache and sorrow, yet still weaves the words into something incredibly beautiful with every single poem she exuberantly spills on to the page.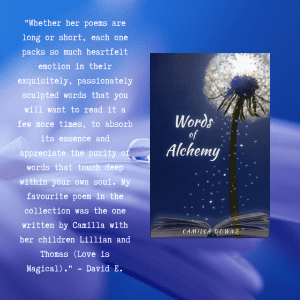 Whether her poems are long or short, each one packs so much heartfelt emotion in their exquisitely, passionately sculpted words that you will want to read it a few more times, to absorb its essence and appreciate the purity of words that touch deep within your own soul.
My favourite poem in the collection (it was such a difficult choice, since all of the poems within have something unique to recommend them) was the one written by Camilla with her children Lillian and Thomas (Love is Magical). I had to re-read it a couple of times, as I marveled over what was written and by whom. It was exhilarating how well their different writing styles meshed together and at that point, I could really feel the bond of family between them all.
Buy this book and get taken on an enticing emotional journey that you will never forget." – David E.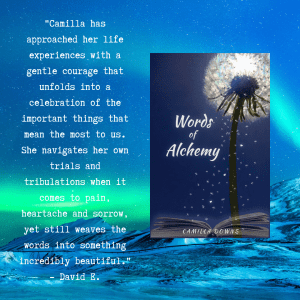 Blessings,
Camilla
See It. Share It. BE IT … Spread Love Everywhere You Go!
"Words of Alchemy", published December 2019, is a free-verse poetry memoir covering the last 6 years of my life. The poetry of nature, the poetry of healing, the poetry of appreciation, the poetry of love, in one beautiful book.
Amazing news! My 18 year old daughter, Lillian Darnell's debut book, "Where Would You Fly and Other Magical Stories" was published January 2018. Learn more and order here. 
Wonderfully exciting news! My 14 year old son, Thomas Darnell's book, Biggest Little Photographer is published. Be inspired! Learn more and order here.