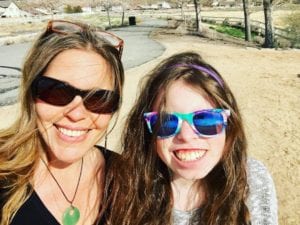 In early November, Lillian and I survived visiting the downtown library so that Lillian could sign volunteer paperwork and get the fingerprinting form. That's the one library we cannot visit due to Lillian's depth perception, balance issues, and an uncooperative proprioceptive system. It's a 4 level building with huge open spaces and staircases. Makes her head spin and legs shaky. It's beautiful and I love this location. Just not a good fit for her!
There was a huge amount of anxiety over having to go there. I had spoken to them about her difficulties and they were going to let us in the back door so she didn't have to walk through the front door and through the huge open areas. My contact was not answering the phone, so I figured we'd give it a shot going through the front doors. Didn't go so well. We inched along with Lillian getting more and more uncomfortable and beginning to have an anxiety attack.
We made it to the elevator and I got us off one floor too early. Ugh! We inched towards a corner surrounded by book shelves and two walls to help her feel better. And … then we were stuck there! I asked a library worker to let them know we were here, but stuck where we were! HA! Someone came and let Lillian know if we got back on the elevator and went up one floor we'd be directly by her office door so she wouldn't have to see the open area.
That did the trick! After signing paperwork, she took us back down the elevator and let us out the back door directly by the elevator. Whew! I am deeply proud and happy for Lillian having not spiraled down further while in the midst of it. I helped her slow down her breathing, breathing deeply, and distracted her by looking at books and talking about them.
As I'm stuck on the 3rd floor of the library, in the Sci-fi section, in a corner, with Lillian attached to my arm with a death grip … I'm thinking how utterly hilarious this is …. Lest I begin thinking how not hilarious this is and spiral down into my own meltdown. Good material for future books. Life is the best material …. for living, for sharing, for meeting our edge …
(November 2 2019)
Blessings,
Camilla
See It. Share It. BE IT … Spread Love Everywhere You Go!
"Words of Alchemy" has arrived, December 2019! A free-verse poetry memoir covering the last 6 years of my life. The poetry of nature, the poetry of healing, the poetry of appreciation, the poetry of love, in one beautiful book.
Amazing news! My 18 year old daughter, Lillian Darnell's debut book, "Where Would You Fly and Other Magical Stories" was published January 2018. Learn more and order here. 
Wonderfully exciting news! My 14 year old son, Thomas Darnell's book, Biggest Little Photographer is published. Be inspired! Learn more and order here.