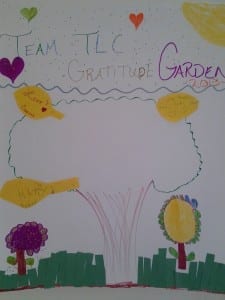 I decided to do it different this year for our November month of gratitude.
Team TLC planted our very own Gratitude Garden! We each added to the tree every day. We added so much love to our tree that it became blooming full! Lillian planted the yellow flower and Thomas the purple flower. Thomas cut out most of the fruits and leaves for the tree too!
Here's our Gratitude Garden and Tree all grown! Next year, we will make our tree larger to better allow for growth of all the leaves and fruits!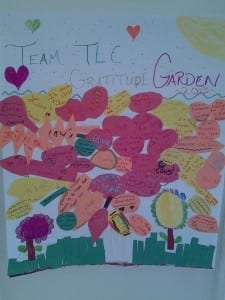 I chose to grow our garden freestyle so we didn't date our fruit and leaves. We just added a word or two of what we are thankful and grateful for, added our name, decorated and then "planted it"!
Here is each of ours in no particular order:
School
Food
Sun
Books
Cows
My birthday
Thanksgiving
Color
Love
Ducks
Leaf
Happy
Lemon Book
Legos
Shrimp
Friday
Paper
Christmas
Weather & Seasons
Life
Ham
Kindness
Legos
Living
Library
Waffles
Color blue
Family
Junie B. Jones Books
Clothes
Snow
Building
Beauty
Clothes
Love
Strength & Courage
Goodness & Kindness
Imagination
Quiet Time & Meditation
Shelter – Our Home
Water
Compassion
Excitement
Abundance
Food
Thomas & Lillian – Getting to be their Mom
Generosity
Books
Nature
That's it! We had a great time creating and planting our Gratitude Garden! May this inspire you to begin planting your own garden of gratitude!
Thomas and Lillian chose to make their own version too! Here they are: