My 14 year old daughter, Lillian, has a genetic deletion called 18p-. She is missing the short arm of her 18th chromosome. Fortunately, there is an organization called The Chromosome 18 Registry & Research Society. They've created a portal for all families affected by a chromosome 18 difference to connect and they conduct amazing research that they then share with the families. Incredibly valuable!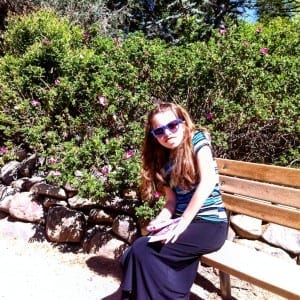 I've written many posts detailing how this affects her and us as a family … and even wrote a book about it. Here's the latest two articles I wrote about it that were published by organizations other than me! "Dear Meltdown" published by elephant journal and "The Gift of One" published by the Australian Institute of Intellectual and Developmental Disabilities.
We have been attending the yearly conference hosted by The Registry for about the past 8 years. This year the conference is in San Antonio from July 10-13th. It has become something that Thomas, Lillian's younger brother, and Lillian and I depend on to allow us that face to face connection with others in similar situations and to learn of the latest research and useful information.
I've written a few blog posts after the conference to give others an idea of how meaningful they have become. Journey to Magical Moments – 19th Annual Conference, Why It Matters – 20th Annual Conference, and I Showed Up and Fell in Love.
The anticipation of and the attendance at the conference encourage Lillian to set goals and accomplishing them. At last year's conference she got in the elevator, went downstairs, and waited in the lobby for friends .. all without my assistance or presence. She used the hand dryer and automatic toilet also. About a week ago she walked across the foot bridge alone, without holding onto my arm. Two days ago she climbed two stairs with holding onto my arm and plans to reach the top of the stairwell before we leave for the conference. All of these are huge accomplishments for her.
For the past 2 years a local nonprofit has helped us attend by paying the registration fee. We just received word today that they are not able to help us this year. The least expensive way for us to get from Reno to San Antonio is to drive, and that's what we'll do. We are prepared to take a tent and camp on the way down, if need be.
Every year Thomas and Lillian both want to contribute to getting us to the conference. They come up with their own ideas and offer their creations for sale through each of their websites.
This year Thomas painted rocks, made a painting titled, "Leaf at Sunset", created a "Nature Adventure Box", offers prints of the mini-figure photo a day project for sale, and offers his upcoming book, "Grand Adventures of the Biggest Little Photographer", for pre-order. He also still has the "Random Act of Love" cards he created last year. If you are local to Reno and are a dog owner, Thomas also offers to clean your yard of doggie poop or run errands for you (with me as his assistant).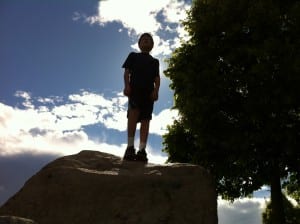 Lillian is selling prints of an abstract drawing she made titled, Egyptian Eye, a new abstract drawing she created titled, Rainbow of Emotions, and offering to create custom made abstract drawings.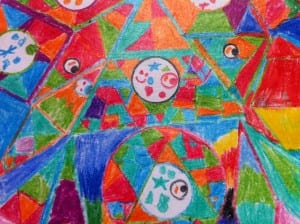 (Rainbow of Emotions – Lillian's newest creation)
I have the services I offer and my creations. Monies from the sale of these go towards our living expenses first and then towards the conference. My number one main and most important "job" is ensuring that I "raise" two beings who live life from a place of loving-kindness, who retain peace and joy as they age and are grounded in the knowing of their given talents so as to share those talents for the benefit of others.
I single parent the two of them and this is a full time, almost round the clock "job". It's not really a job in the traditional sense of the word as I enjoy getting to do this. I am supposed to be doing this. It's definitely not always easy or fun, yet those un-lovely times are when we are learning the most and making the greatest progress as human beings.
At this point, I'm not sure how we will get to the conference. If it feels right for you and you are moved by any of the items Thomas and Lillian have created, I invite you to support our trip to the conference by visiting their websites. Or, if you'd like an item custom created, let us know by emailing me at CamillaDowns @ gmail dot com or commenting to this post.
If you want to help, yet aren't able to assist financially, take a look at the routes in this image. Google Maps suggests three different routes. Has anyone out there driven any of these routes, know the road conditions, etc … Need to decide which is the best route. What about campgrounds on any of these routes? Know about any?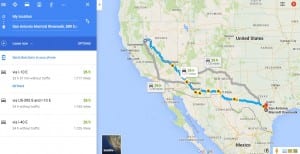 Here are the different ways to support our trip if it feels right to you:
Painted Rocks by Thomas
Leaf at Sunset by Thomas
Nature Adventure Set by Thomas
Mini-figure photo a day prints by Thomas
Pre-order "Grand Adventure of the Biggest Little Photographer" by Thomas
Services by Thomas (errands and poop scooping – in Reno area) (email me regarding this one)
Egyptian Eye by Lillian
Rainbow of Emotions by Lillian (email regarding this one – picture above)
Custom Abstract Art by Lillian (email me for this one … CamillaDowns @ gmail dot com)
Mystique Boutique (Camilla)
Walk With Me (Camilla)
Buy "D iz for Different" (Camilla)
Custom Poem by Camilla (email regarding this one)
Just Want to Support – Here's a PayPal link
Offer route suggestions and/or information per the Google map above
Breakdown of the costs for attending The Chromosome 18 Conference July 10th-13th:
Registration for all three of us is $525
Hotel is $175/night (and that's a reduced rate for our group!) (This is covered!!)
Gas and hotel for round-trip driving (Approximately $660 – could be less if we camp. Estimated fuel costs from fueleconomy.gov)
Food (Approximately $500)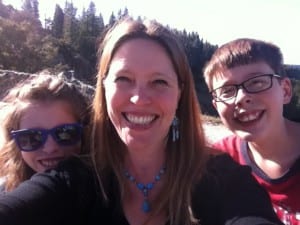 Blessings,
Camilla
See It. Share It. BE IT … Spread Love Everywhere You Go!
Latest Articles:
[catlist name=blog]
Go here to subscribe to my blog to ensure you receive new posts delivered straight to your inbox!