… And continues to give the gift of himself every minute of every day …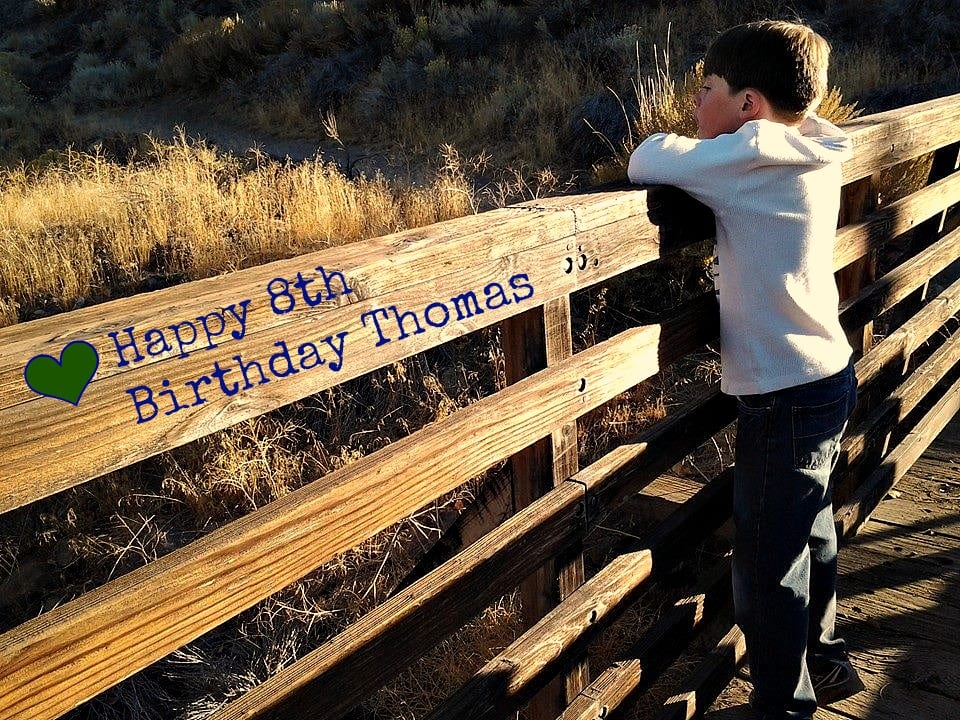 Some people say, "I can't believe (s)he is already 8 years old." I think to myself, "I cannot believe he is only 8 years old!"
Having not been able to give birth to Lillian at The Birthing Center, I was so excited to be able to deliver Thomas there and for it to be a water birth also.
Honestly, I had a rougher pregnancy with Thomas than Lillian. He was absolutely healthy, but I felt horrible. I was so nauseas and tired the entire time.
In the late afternoon on November 13th, I began having contractions. Naturally, I decided that this was the very time I had to get caught up with the Wall Street Journal print editions I had gotten behind with reading! There I was pacing around the house reading WSJ and stopping to have contractions in between!
We met the midwife at the birthing center about 9:00 pm. Things were moving along pretty quickly as I was doing my best to stay relaxed so that things could progress. After she checked us both and filled the huge bathtub with water, I got right in. I was having tremendous labor pain in my back but kept visualizing this young man making his exit and relieving me of my pain!
I didn't have to wait too long as he moved his way right along and joined us pretty quickly! After waiting for my temperature to get back to normal, the three of us made the 10 minute drive home. It was about midnight when we arrived and Lillian was sleeping so she got to meet Thomas the next morning!
Today, November 13, 2013, on HIS special day he came and got me, told me to close my eyes and led me to his room. He said he had a gift for me. When I got to his room I removed my hand from my eyes and he had beautifully made his bed! Take my breath away … HE had a gift for ME on HIS special day! This was more of a gift than a nicely made bed.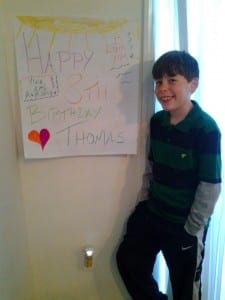 I feel that ALL children are a gift and that some of us fail to see the gift they bring to us. Not on purpose. We just seem to forget all that we knew about life when we were young. As some of us get older, we lose the pure love, compassion and generosity that were our nature during childhood.
In the beginning of motherhood I did not get this or choose to see and receive the gift. Being in my 12th year now with this parenting journey, coupled with my own awakening and learning journey, I see it so vividly.
Almost daily I have moments where a gesture or words spoken by Thomas bring forth the feeling that time does not exist, we are engulfed in a wave of silence and I have just been given a lesson that I needed right at that very moment.
By the words of wisdom and gestures I share with him, I am teaching these things to myself. For this young man doesn't just act like he's listening, he comprehends my words and actions and shares it with me at a different moment in time.
Yesterday he asked so gently if he could have an ice cream as a birthday treat while we waited for Lillian to finish her therapies. I reminded him we had ice cream at home and that he could have some. He said, "Okay, that sounds good."
Lillian's therapy center is only seconds from the fast food place that has soft serve ice cream. After I parked, I filled my mind with thoughts of abundance and generosity and changed my mind. After all, it was only a $1 cone.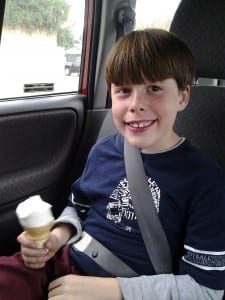 Thomas had gotten out to play so I asked if he still wanted that ice cream cone. As I turned into the parking lot a homeless person was sitting on the curb.
In addition to ordering the ice cream for Thomas, I ordered a chicken burger. At least, I think it was me. I felt an overwhelming urge to order that burger and give it to the person we had just passed. I had Thomas hand it to him as we pulled next to him. I have NEVER done this before.
The man thanked us many times. As we drove off, I told Thomas that it doesn't matter the reason that man is sitting there or even if he is really homeless. I felt moved to share kindness and I did.
I explained that we never want to NOT share kindness due to judgment of another or for fear that our kindness will not be well received. Once we perform an act of kindness it's really no longer our business. I'm sure Thomas will remind me of this beautiful moment just when I need it most.
"The sage is kind to the kind and kind to the unkind." -Lao Tzu
My heart is so full of love for Thomas. It adds to my own love of self and truly causes my heart to skip a beat at times. No matter what paths he chooses for his journey or where it leads him, I will always love him.
This amazing child with his wise old soul has brought much into my life. I am blessed daily by his presence, his love, his wisdom and his humor. I LOVE that I get to be his mentor and his mother and that HE gets to be my mentor and son! We knew what we were doing when we chose one another for this journey.
You may say I'm a dreamer, but I'm not the only one …. And … It's really none of my business what you think of me … xoxo