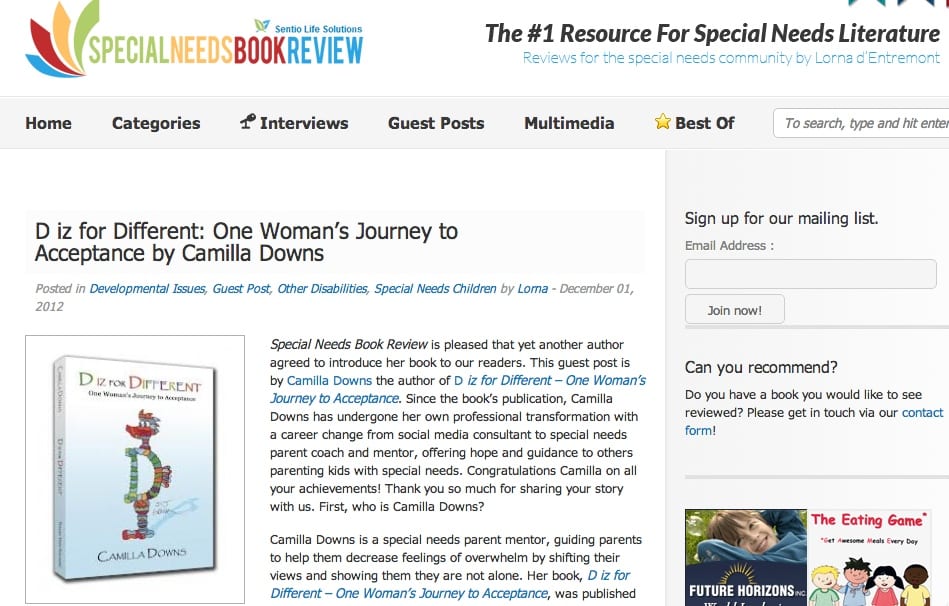 Thank you to Lorna d'Entremont of Special Needs Book Review for sharing with her audience about 'D iz for Different'!
Special Needs Book Review is pleased that yet another author agreed to introduce her book to our readers. This guest post is by Camilla Downs the author of D iz for Different – One Woman's Journey to Acceptance. Since the book's publication, Camilla Downs has undergone her own professional transformation with a career change from social media consultant to special needs parent coach and mentor, offering hope and guidance to others parenting kids with special needs. Congratulations Camilla on all your achievements! Thank you so much for sharing your story with us. First, who is Camilla Downs?
……….. "Feelings of isolation and overwhelm keep special needs parents stuck, especially when coupled with deeply ingrained erroneous thought habits," said Ms. Downs. "Special needs parents can unknowingly isolate themselves and begin viewing their lives in a negative way. These findings from the discussions and interviews that went to the writing of D iz for Different have been further confirmed by the hundreds of discussions that have been generated since its publication in May of 2012," she added.