Walk With Me themes from a May 2016 walk ….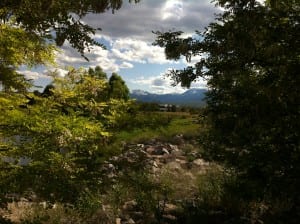 1) Ask.
When approaching the lake's edge the ducks come right on over "asking" if you've got food for them.
How will the person or people that want your creations or services know about them, if you don't put them out there and ask.
There may be those that don't like your creations or services, don't understand, or judge. Yet, think back to the ducks. They don't stop and think, "What if they don't have food? What if they say, "No, Go Away"? … They ask anyway. You have those creation ideas and ideas for service in your heart for a reason. For the benefit of others and for yourself.
2) Listen to and trust yourself.
This one sounds so easy and simple. Yet, fear can be a strong deterrent for listening to the message of our heart. Personally, it has taken me a long time to connect with and physically feel this fear to move beyond it.
And I mean, I really felt it … in my gall bladder area. I was taking what life handed to me and it was not what was in my heart. I didn't want to let go for fear of not being able to provide for my family (for me it wasn't just fear, it was the other "f" word too – forgiveness).
It took a long time, much pain in my right side, oceans of tears, yet I was finally able to let it go and allow what was in my heart. The way was provided when I did this.
Not how I expected. It has been completely unexpected. What a wonderful feeling to let go of something, trust oneself, and allow the unfolding of what's in one's heart. It's not just wonderful. It's magical and miraculous. xoxo
I invite you to allow nature to guide you and if you feel moved … Come, Walk With Me ….. xoxo (Sessions as low as $10)
Blessings,
Camilla
See It. Share It. BE IT … Spread Love Everywhere You Go!
Wonderfully exciting news! We've completed the first book trailer for my 10 year old son's, Thomas Darnell, upcoming book, Biggest Little Photographer. You can learn more and pre-order here. Arriving mid-October 2016!
Latest Articles:
[catlist name=blog]