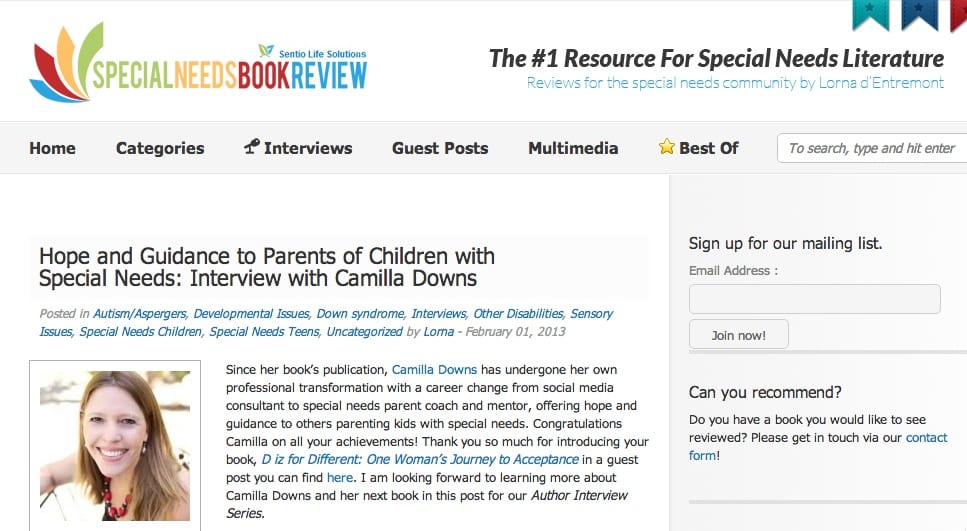 Hope and Guidance to Parents of Children with Special Needs: Interview with Camilla Downs
Since her book's publication, Camilla Downs has undergone her own professional transformation with a career change from social media consultant to special needs parent coach and mentor, offering hope and guidance to others parenting kids with special needs. Congratulations Camilla on all your achievements! Thank you so much for introducing your book, D iz for Different: One Woman's Journey to Acceptance in a guest post you can find here. I am looking forward to learning more about Camilla Downs and her next book in this post for our Author Interview Series.
Lorna: When asked what is your book, D iz for Different: One Woman's Journey to Acceptance about? What do you answer?
>> Camilla Downs >> In general this is a self-help book for anyone looking to reach acceptance of themselves, those needing to dig down deep for the courage within themselves, or someone looking for guidance on finding the gift in a situation or event. Specifically, this is a book for parents of children with special needs to reassure them that they are not alone and to encourage and inspire them. Each chapter is a letter of the alphabet and each chapter concludes with a Tip for the Journey. Read the entire interview by clicking here.
Thanks Lorna d'Entremont for the pleasure of having you interview me!!