(If you are new here or just landed on this post in particular, this is a continuation to the post titled, Is Your Body Trying To Tell You Something)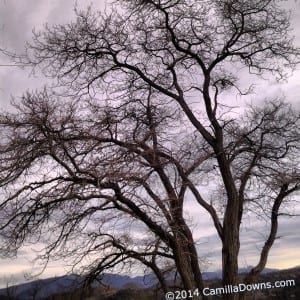 (Awesome tree that lives in Virginia City, Nevada … March 2014)
No messing around here. Candida overgrowth … also called yeast/fungal overgrowth. This is what I found on April 26 2014 when I began researching one of the main symptoms I was experiencing.
I failed to mention in the previous post that my body and joints were aching so much that it hurt to stand up and walk across the room. From my research it seems this would be symptoms comparable to fibromyalgia.
I also didn't mention one of the symptoms because, honestly, it's quite embarrassing. But, heck! I openly share everything else and even published a blog post asking the online world for monetary help for Team TLC; I might as well share this symptom. Drumroll ….. itchy bottom. This seemed to be hormonal and disappeared as quickly as it appeared; which is why I was able to so easily ignore it.
Here is my complete list of symptoms:
Exhaustion
Inability to think clearly
Achy joints
Stubborn eczema (the essential oil remedy couldn't even tackle it)
Eczema-like break-outs under my nose and eyes
Itchy bottom about once a month
Painful and constant gas and bloating
Constantly blowing my nose – similar to allergies
I am an experienced online researcher so I am aware to verify information and validity of a website. In addition, I generally don't get sick and I've not been to a doctor in five or six years. Well, except for this nearly 2 year long ignoring of my body's messages about overgrowth of yeast. Oops!
The morning after I discovered the answer to my situation, I did the spit test. The results were consistent with candida overgrowth. That same day I began a candida cleanse which consisted of eating only certain vegetables and drinking only water. **Due to interest, I will be writing a blog post on the specific items I ate and what I avoided. I hope to get that posted sometime in the next week.**
I also began taking caprylic acid which I had found in research to be a natural anti-fugal. It kills the yeast by poking holes in the yeast wall. I took the Vitamin Shoppe – Caprylic Acid, 100 capsules (amazon affiliate link) for the first month and now I'm taking this one, Capryl Sodium & Resin Free – 100 – Capsule (amazon affiliate link). I may try at least one more of these so I can have a comparison as to which works best for me.
In addition to that I began taking Live Gracefully's Prebiotic and Probiotic; which keeps the good bacteria alive, replenishes the right combination of beneficial bacteria, and feeds the good bacteria to keep them plentiful and strong.
I had intended to stay on the cleanse for at least 3 days if not more. I only lasted a day and a half. The cleanse was optional so I felt I had done good and killed off some of those silly ole yeast. It was making me way too grumpy with Thomas and Lillian as I felt really hungry and one's symptoms intensify when the yeast is dying off.
After that, I stayed on a Candida diet for the rest of the month. I am still on a mostly Candida diet and will be for another couple of months. By the end of the first week, the extreme fatigue and achy joints began to lift. By the second week the foggy mind begin to clear and I had much more clarity. I was reunited with my old friend, FOCUS. So amazing! The eczema on the back of my leg had cleared, as well as underneath my nose. AND, no more itchy bottom flare ups! Wahoooo!!!
I am so impressed by the quality and effectiveness of Live Gracefully's Prebiotic + Probiotic. I mentioned to Brenda Do, Chief Trumpeteer of Live Gracefully, that I would be writing an article about my return to health and sharing about Live Gracefully. I also asked for a special discount exclusively for my readers.
Here it is! 10% OFF! You get 10% off your first order of any of the high quality Live Gracefully supplements. In addition to the probiotic I've been using, they offer 1) anti-inflammatory + antioxident, 2) energy + plus immune strength, and 3) heart + brain power.
Be sure to use this code at checkout … CDGUT. The code is not case sensitive. You can enter in lower or upper case. This code expires June 5 2017 and can only be used for your first order. (Since I love the supplement so much I became an affiliate for Live Gracefully y'all!)
Live Gracefully offers a Total Happiness Guarantee .. "We guarantee you'll be happy with the results you feel while using our products. If, at any time, you're not happy with our products, please return the opened or unopened bottle(s) within one year of purchase (365 days). Even if you tried every last pill and didn't feel they helped, then return the empty bottle. We'll promptly send you a full refund less shipping and handling."
I personally know Brenda and know that she is committed to the purest quality and effectiveness of Live Gracefully's line of supplements. The supplements are manufactured in the United States at a cGMP facility. Distribution and administration happens right here in beautiful Reno, Nevada!
The website is a powerhouse of information. Not only that, after you place an order, you receive a few amazing Hal stickers to pass around, a thoughtful thank you with a goal card, and information packed email newsletters periodically.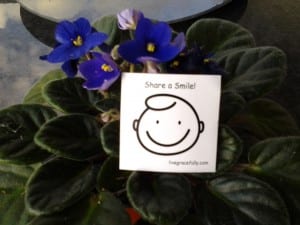 (My son, Thomas, gave one of his Hal stickers to Violet, our violet plant)
The following is a list of the websites and articles I consulted:
Several from the Dr. Oz website … (Here are two of them):
Eliminating Yeast/Fungal Overgrowth
Hidden Cause of Your Exhaustion
It is my sincerest wishes that this article and the previous article, Is Your Body Trying To Tell You Something, are helpful to any who stumble across it or who are led here by Google! I would love to hear your thoughts or stories about candida. Please share if you feel moved. It may help others as well.
I still have a bit to go in getting my gut completely balanced. However, I feel 100% better! I feel so alive again! Here's to all of us feeling ALIVE! YIPEEEEEE!!!!!!!!!!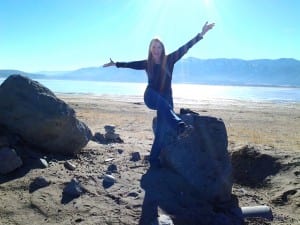 (Me at Washoe Lake .. February 2014)
H♥rtfuly Inspired™,
Camilla
See It. Share It. BE IT … Spread Love Everywhere You Go!
Go here to subscribe to my blog to ensure you receive new posts delivered right to your inbox! Right here!
Have you ordered your copy of my book, "D iz for Different"? It's available in paperback and Kindle (Kindle device not necessary). Go here to learn more.