"Had I not arrived in a different place than planned, I would never have realized the power, wisdom and compassion that lies within me."
Mom, Nature-Mentor, Best-Selling Author, Blogger, Writer, Photographer, and Inspirational Speaker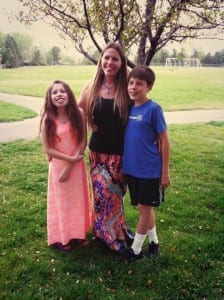 I am a ninja improvisor and I do it in a way that makes it seem as if I knew what I was doing all along. Plus, I make it FUN if the occasion calls for it. I have a crazy, insane eye for detail. These two qualities together make for some interesting times!
My number one main and most important "job" is ensuring that I "raise" two beings who live life from a place of loving-kindness, who retain peace and joy as they age and are grounded in the knowing of their given talents so as to share those talents for the benefit of others.
I'm a nature-mentor and am on a journey full of new learning, a journey with fresh eyes, an open heart, and a thirst for discovery.
I single parent 10 year old Thomas and 14 year old Lillian. Lillian has a chromosome abnormality simply called 18p-. This means she is missing the short arm of chromosome #18. She is free spirit with a sparkling smile with eyes to match and she has much to teach us. I'm deeply grateful and blessed that I get to be her Mom.
Her younger brother, Thomas, is an amazing and loving helper! He is a wise old soul with a refreshing intelligence. He and his sweet spirit are a joy to be around. Although Thomas has not been officially diagnosed, he struggles with sensory processing issues.
We call ourselves Team TLC to correspond with the first letters of each of our names. We are seven months into a living-in-a-tiny-home adventure.
I openly share my life and Team TLC's family life through writing my first book, "D iz for Different – One Woman's Journey to Acceptance", writing on this blog, The Team TLC blog, and facebook. I'm currently writing my second book, tentatively titled, "Walk With Me – One Family's Journey to Mindful Living". We will also soon be releasing a family book of inspirations and are currently working on creating Thomas' 365 photo-a-day project into a book.
I love going for walks alone and with each of my kids separately and together for family walks. I love taking pictures of nature while out for these walks and our other nature adventures.
I am in deep awe of the beauty I capture. All the photos I take are intuitively guided and spontaneous. I share the pictures on facebook and here in the Photography Musings section.
I am inspired by this place I have chosen as home … Reno, Nevada. When he was 7 years old, my son, Thomas, summed it up with one beautifully inspired comment. "It's like we are at an art show and nature keeps changing the art for us."
Although we don't own a television and haven't since about 2008, we do have a movie night every Saturday night. I share the books we read together and the movies we watch on facebook and here in the Book and Movie Musings section.
How can I help you?
Would you like to go on a short walk-about with me?
I offer to you unique one of a kind "Walk With Me" sessions. A Walk With Me session is a unique nature-centered style of coaching. Go here to learn if a "Walk With Me" session is right for you.
Would you like an inspirational speaker at your next event?
I am someone who authentically speaks and shares about healing, emotional connection, , nature connection and mindfulness, along with single, mindful parenting, including special needs parenting, while on this journey.
For nearly 10 years I have been on a journey of getting to know myself and of being my true self … And, I've done it while single parenting 2 kids … from the age of 1 year old and 5 years old to 10 years old and 14 years old.
Groups and events that may be a good fit: Mom's Groups and Events, Parenting Groups and Events, Teacher's Groups and Events, Groups and Events having to do with mindfulness, healing, or spirituality. Contact me here about speaking.
Would you like to schedule a "Coffee Chat with Camilla"?
I am a trained coach, however, traditional coaching methods and styles are not my path. My sessions feel more like conversations with a friend, yet are conversations with a purpose. I am to be a mirror. I am to reflect back what I notice that you are not noticing. If you feel in need of an internal shift, a change in perception, a loving, warm, "mirror" to reflect back what you are not noticing, let's schedule a coffee chat. Contact me to learn more.
Would you like to buy my first book, "D iz for Different – One Woman's Journey to Acceptance"? Go here. Want to know when my second book, "Walk With Me" is available? Go here.
Otherwise, please feel free to take your eyes and heart on a walk through my writings. Grab some tea or coffee, get comfy, get quiet, and enjoy yourself. May something you read lift you and inspire an internal shift should this be what you are seeking.
If you're new to this blog, the best place to begin is the 10 Most Popular Blog Posts of 2015. Also, I recently had the honor of having an article published on Elephant Journal. It's titled, Dear Meltdown: Welcome and Meet My Friend Mindfulness.
Blessings and thank you for stopping by … xoxo