"Simplify, Simplify, Simplify" -Henry David Thoreau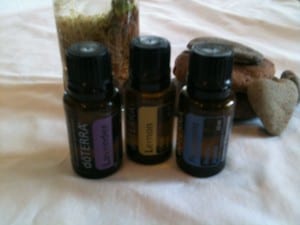 It's that time of year again. That time when seasonal allergies decide to pay us a visit. About three months ago I attended an essential oil class. During that class and from talking with people at networking events I attend, I learned of an essential oil "allergy cocktail". I was fortunate that my friend, Kymberlee Simantel, gifted an introductory kit to me for my birthday back in February which contained the three oils which comprise the allergy cocktail – lavender oil, lemon oil and peppermint oil.
To make the allergy cocktail mentioned above you use 2 drops of each of the 3 oils. I use a small glass and mix Thomas and Lillian's with a dash of Apple Juice so it's not too strong. The peppermint is pretty strong and NOT suitable for giving straight (without diluting) to kids.  For me, I just drop 2 drops of each of the 3 oils under my tongue. Let it sit for a few second, swallow it, then wash it down with water. It's still strong; which you'll get used to if you do this often. You'll have great smelling breath too!!
If it's too strong, just mix with a small of amount of juice or water or you could use a vegetable capsule like this: Capsule Connection 1000 Bulk Empty Vegetarian Capsules, "0″ Size (amazon affiliate link). Put the drops in the capsule and swallow them. Some people don't like the taste of lavender oil so this is a good alternative. Additionally, you could apply topically underneath the nose, to the chest area, or bottoms of the feet. You could also diffuse aromatically to help with indoor symptoms.
It works for us and I'm all for having mother nature help with what ails us as opposed to using pharmaceuticals. I've also been receiving information that eating a spoonful of organic local made honey every day during the season will help with seasonal allergies. We are trying that next and I'll let y'all know how that goes!
Pay close attention to the essential oils you use. Most of them are NOT dietary and therefore NOT ingestible. Some essential oils ARE for dietary use and ARE ingestible. Be careful and read the label before you ingest! Use whatever brand you like!
I'm on a patient search to see what I can use from nature for Team TLC's "medicine" cabinet and our health and beauty products. I've found a replacement for my face wash and moisturizer … organic olive oil and the oil cleansing method and a treatment for Thomas' eczema using lavender oil.
*These statements have not been evaluated by the Food and Drug Administration. This product is not intended to diagnose, treat, cure, or prevent disease. 
This article is now part of my inventory in Simplify.

I enjoy taking the time to share information with y'all that I think is helpful and will help you simplify your life. So, if you feel this helped you in any way, toss a tip into the tip bowl on the way out of Simplify.

If you can't afford to donate, please feel free to pass this article along to others who might get some help from it. Thank y'all to everyone who has donated and shared in the past. I don't always get a chance to respond, and the donations, shares and comments are my indicators that what I share is helpful. Thank YOU!